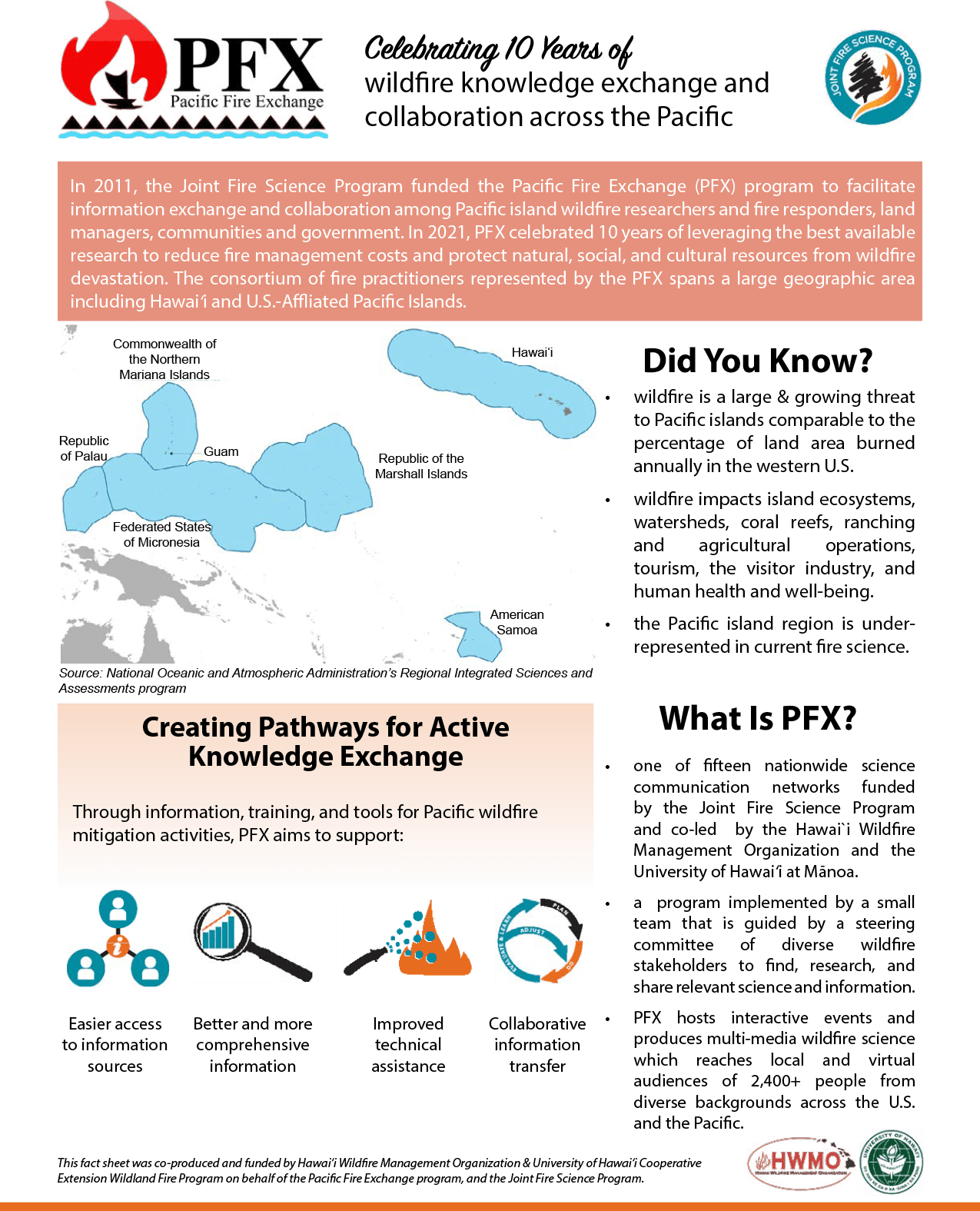 The Pacific Fire Exchange is a support system and catalyst for managers, scientists, policy makers, and citizens to interact and share credible fire science for sound decisions in land management and planning. Co-led by the Hawai'i Wildfire Management Organization (HWMO) and the University of Hawai'i (UH) at Mānoa, we share science-based knowledge that helps provide solutions to fire management challenges from Hawai'i to Palau. We are one of fifteen fire science exchanges funded by the Joint Fire Science Program which is dedicated to wildfire fire science development and communication across the U.S. Learn more about our team HERE.
Wildfire is a large and growing threat to all of us in Hawai'i and the Pacific. Science can provide insight for making complex about wildfire. The PFX program facilitates the pursuit of the best available wildfire science across Pacific Islands. We translate and communicate that research to those affected by wildfire. The program aims to meaningfully contribute towards reducing the threat of wildfire in the Pacific. We accomplish this through the exchange of knowledge between scientists and managers and by supporting regionally relevant fire prevention and management collaborations. Learn more about PFX's history and accomplishments HERE.
We align with the core values set by the Joint Fire Science Program which in the Pacific region include:
- Being inclusive, striving to make sure that all relevant partners have the opportunity to be involved.
- Serving as neutral science partners, not as an advocate for a certain type of management.
- Ensuring activities are end-user driven, both in how they are structured and how they function.
- Operating collaboratively, working to foster joint management and science communication.
- Striving to be innovative, pursuing new and creative ways to disseminate knowledge.
- Working to facilitate the flow of fire science information, the dialogue of new science findings and the needs of resource managers and policymakers.