Connecting Research to On-the-Ground Wildfire Priorities
PFX strives to serve the needs of wildfire practitioners, island communities and landscapes by working with our partners to identify and pursue relevant science and research across the Pacific region.
2014 Stakeholder Priorities
In 2014, wildfire stakeholders prioritized knowledge about pre-fire management; prevention, outreach, and education; wildland urban interface; after-fire response; wildfire suppression; collaboration; drivers and impacts of wildfire and the use of technologies. These priorities provided a road map for PFX products and activities and a resource to identify and develop research that meets on-the-ground needs (right). Read more here about these stakeholder priorities.
Current Wildfire Research Needs
PFX engages in many questions concerning the relationship of fire to the natural and built (human) environment. This include understanding how the climate crisis is impacting fire outcomes in the Pacific. In addition, building a better understanding of the social, cultural, economic and human dimensions of fire are critical Pacific Island research needs.
Do You Have a Great Idea You'd Like to Pursue?
Check Out Our Research Library
Recent Resources for Researchers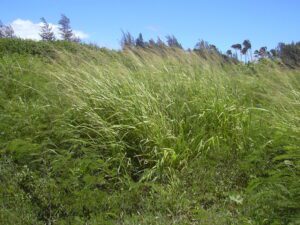 Some introduced grasses in Hawai`i are especially fire prone and present challenges to land owners, land stewards and those concerned with the spread of wildfire. This ID guide is a quick reference to identify and control fire-adapted grasses.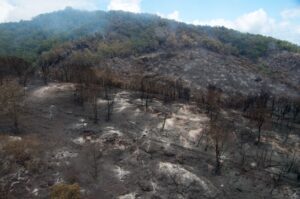 As wildfires burn with greater frequency and intensity across Hawai'i and the Western Pacific, many natural resource management partners have been working together to learn about, better prepare for, and address post-fire impacts on communities and natural resources.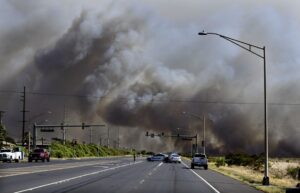 New climate projections for Hawai'i are based on historical rainfall, and future climate scenarios, such as the footprint of highest fire risk is expected to increase in extent and move upwards in elevation while fire risk may decrease in the driest low elevation areas. This fact sheet summarizes the latest climate research as it relates to wildfire.