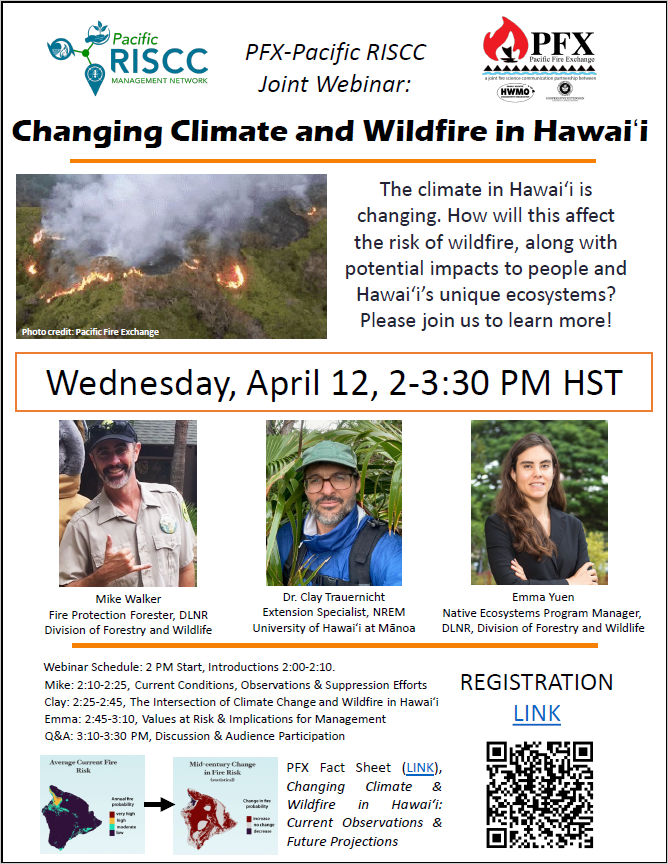 What: In this joint webinar hosted by the Pacific Fire Exchange and the Pacific Regional Invasive Species Climate Change, we tackle the climate crisis in Hawai`i and how this affects the risk of wildfire as well as the impacts to people and the archipelago's unique resources.
When: April 12, 2023 at 2:00 - 3:30 pm HST
Who: Speakers include Michael Walker, Fire Protection Forester with the Hawaiʻi DLNR Division of Forestry & Wildlife, Dr. Clay Trauernicht, Extension Specialist with NREM, University of Hawaiʻi at Mānoa, and Emma Yuen, Native Ecosystems Program Manager with DLNR, Division of Forestry and Wildlife.
Additional Resources: refer to the the PFX Fact Sheet: Changing Climate & Wildfire in Hawai'i: Current Observations & Future Projections.
Watch here: https://youtu.be/FXBKtmHtf2M