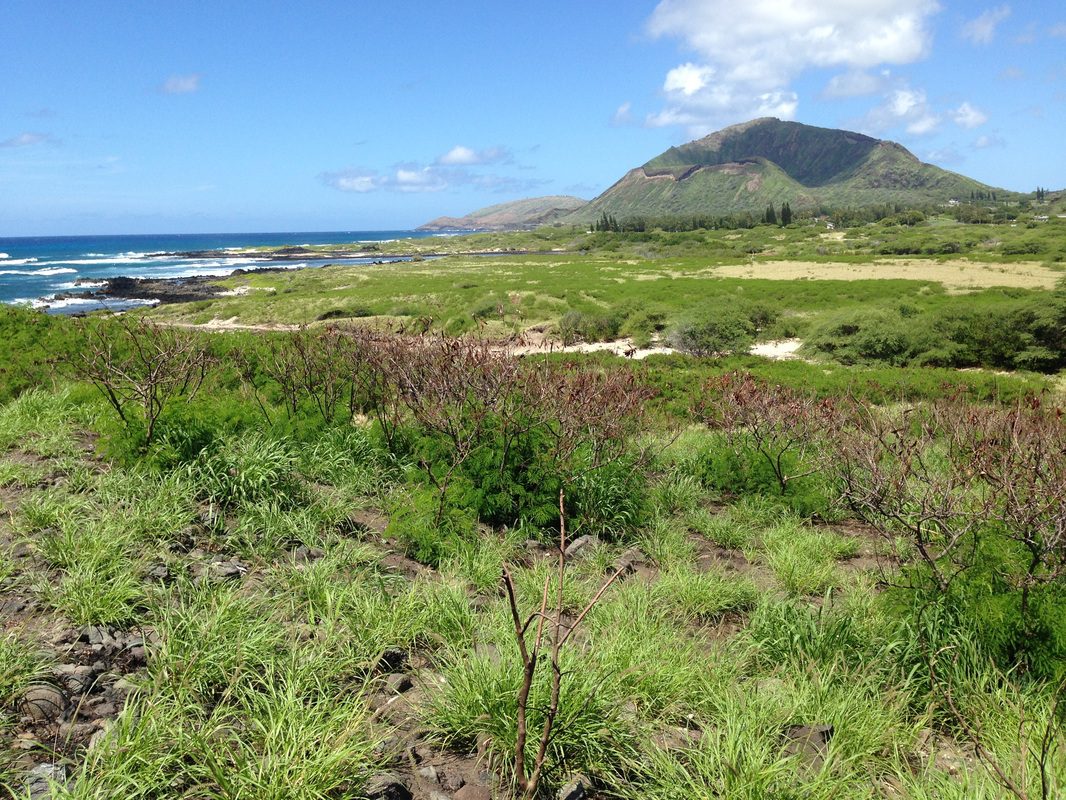 Makapu'u is the easternmost part of the island of Oahu.  Its an iconic area, famous for its beaches and the trail out to the lighthouse.  But the coastal strand and scrub vegetation that covers the old volcanic slopes has also seen its fair share of fires.
I recently took the short drive to Makapuu'u from Honolulu with Lara Reynolds, Botanist with Hawaii Division of Forestry and Wildlife.  She is concerned about the risk that fire might pose to a population of a native, aquatic ferns that occurs there.  I was also interested in checking out the regrowth in a 2 acre fire that burned off the trail to the Ka Iwi coast line in June of this year.
There are some beautiful native plant communities by the beach, but upslope the vegetation consists mostly of Kiawe scrub, haole koa with buffel grass (Cenchrus ciliaris) and to a lesser extent, but thick in certain area, the taller statured nonnative guinea grass.  This creates a pretty continuous bed of knee to waist-deep grassy fuels connecting the roadside to the parking areas and trails running down to the coastline.There are still some native plants hanging on amid the scrub.  Ma'o, Hawai'i's native cotton is scattered throughout the coastal plain and, remarkably, was resprouting like mad in the recent burn.  There is evidence of older fires across the area as well - old burnt stumps and smaller, more recently charred trees.
The Honolulu Fire Department was able to quickly contain the fire that burned this past June – though it was intense enough to scorched several meters up into the Kiawe canopies.  But Lara has spoken to a previous manager for the area who mentioned a large fire several years back – which would probably explain the larger, charred stumps we encountered.So after the field visit, I googled "Makapuu fire" and found it in the news– a 50 acre fire in 2005.  I lived in Waialua on the other side of the island in 2005 – I had no idea a fire ever occurred out here.
http://archives.starbulletin.com/2005/07/19/news/story9.html
Curiosity got the best of me – I needed to see this fire.  So I took a shot and downloaded some free imagery from the USGS LANDSAT satellite taken shortly after the burn.  A lot of fire history work is done using LANDSAT – its free and effective, given you have a cloud-free day.  But I'd never tried looking for a fire under 100 acres.  And there it was – taken July 19th, 2005 – the image is a bit buggy with black lines running across it, but you can clearly make out the fire scar.
You could say, 'so there was a fire, so what?'  But these kinds of reconstructions tell us a lot.  First, they tell us that we live on an island that is pretty prone to burning.  They also allow us to piece together the processes shaping the current vegetation that's there and, importantly, potentially impacting the resources we care about.  Lara's job is to take care of the native plant species in the area.  This 2005 fire tells us she's right to be worried.  The more recent fire, however, also tells us that at least some of our native plants – in this case the ma'o – are more resilient to fire than we might think.