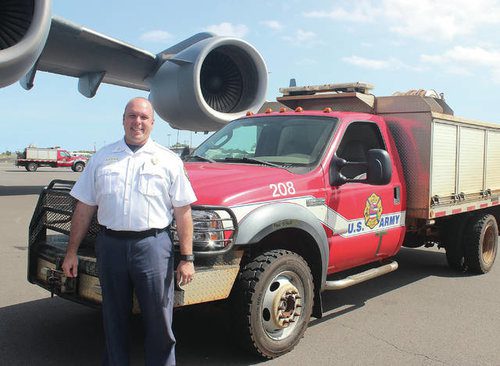 In "Partner Perspectives" we get to know the diverse people, roles, and views of wildfire management in the Pacific.
Name: Eric Moller
Role: Chief of Emergency Services
Organization: US Army, Pohakuloa Training Area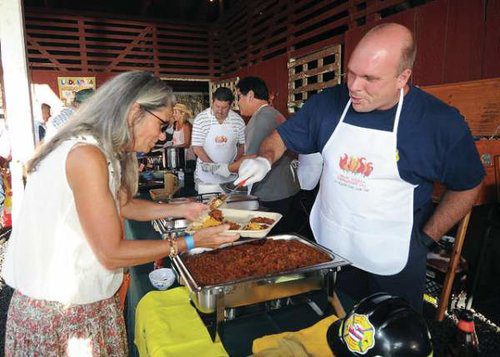 Pacific Fire Exchange (PFX): What sparked your interest in wildfire?
Chief Moller (EM): I've been a firefighter for about 35 years now. My father and grandfather were firefighters, my uncles were firefighters, and I didn't really have much of a choice! I worked as a volunteer firefighter in New York, and I joined the military as a firefighter. I entered the International Firefighting Institution, and when I completed my Advanced Individual Training (AIT), I wound up in Italy and served for 15 years there. I got assigned over here to the Big Island about 15 years ago and work as the Chief of Emergency Services (both Police and Fire) at Pōhakuloa Training Area (PTA).
I'm fortunate because I love the work I do. I look at work more as a way of life than as an actual job. I like the challenge of bringing order out of chaos. I like the ability to work with other people around me - my peers, the other firefighters. You see the best of people during the worst of situations. It's uplifting. Professional firefighting and emergency response is about selfless service. It feels good when you can truly see your work directly benefiting other people's lives.
PFX: Share an experience in collaboration.
EM: With Hawaii Wildfire Management Organization (HWMO) we've partnered on a lot of things. I think the Puako fire break is the greatest example of what we've done. The Puako community is at a wildland-urban interface and is extremely threatened by wildfire. Fast-moving wildfires go right up to the community. Through the leadership of many people in the HWMO, and forward-thinking people in the community, they were able to develop a break that protects the community of Puako. It also provides a safe avenue for firefighters to get in and fight fires without putting them at an undue risk. It's a perfect example of the scientific community, the wildland community, the emergency response community, and the landowner community, coming together and benefiting everyone through a cooperative effort. The fire break hasn't been hit with a full-on conflagration but it has stopped several smaller fires which burned up to the break. .
PFX: Prescribed burning is less common in Hawaii compared to the Mainland, but the Department of Defense regularly does prescribed burns. What are some thoughts you have around this?
EM: There are multiple agencies in Hawaii that do prescribed fire, it's just a little rarer because it requires many resources. Sometimes it's cost-prohibitive for other (non- Department of Defense) agencies to do it. We predominantly do prescribed burns on the island of Oahu because there are many resources and roads (access) that can be brought to bear on prescribed fire. We have a few burns that we'd like to do here on the Big Island, but as of today, we haven't had an opportunity to do that. We did do a prescribed fire in 2003 with the HWMO in the area of the Pu'u Anahulu community. It served as a proof of concept to determine the best way to eradicate fountain grass, mitigate its regrowth, and promote more native Hawaiian species.
Public perception and inconvenience are other barriers to prescribed fire. I think there's more reluctance on this island because of the large-scale unplanned fires we've had on the west side. Many people think that the burning of the land is destructive and unhelpful, but it actually does help - it's a good way for us to reduce deadened and old vegetation that builds up over time. Burning that off actually allows plants to breathe and to reproduce and produce a thriving environment. There is an issue that if fires get too hot, they burn off the sulfur and magnesium in the soils, causing problems for plant regrowth. Also, the amount of smoke produced in a prescribed fire is pretty heavy, which can be an issue for traffic. Of course you don't want to cause a problem with traffic on an island that has limited roads. It's a delicate balance, bringing a lot of pieces together to make sure it's a safe prescribed fire and that it doesn't impact anybody negatively.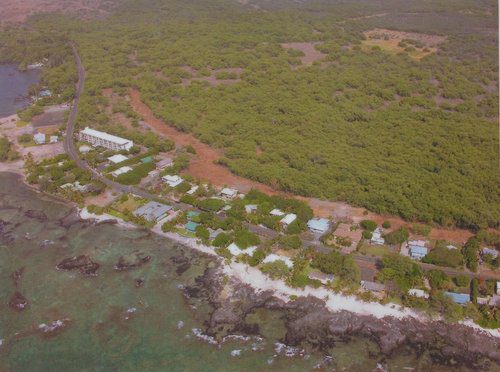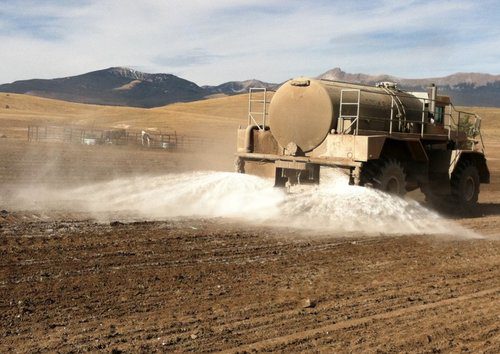 PFX: Describe one of your current projects.
EM: The Keamuku Maneuver Area at PTA is predominantly fountain grass - a lot of light flashy fuels - with a bunch of eucalyptus stands and heavily-wooded areas thrown in. We're in the process of mitigating the fire hazard through fuel breaks and fire breaks. We're also improving the graveled landing zones where we bring in aircraft. We're putting down something called "rhino snot" on these 100' by 100' areas. It's a dust suppressant that also prevents vegetation growth, which helps limit the potential of fire due to landing aircraft.
PFX: Do you have unanswered questions about wildfire?
EM: I have a bunch! Here are a few:
What is the fire threat level for different areas of the entire island, based on vegetation type and access?

What standards or laws can we put in place that help prevent the catastrophic strain of wildfire? For example could construction laws limit the use of combustible materials used in buildings?

How can we encourage more Firewise communities within the islands?

What is the best way to mitigate risk to riparian areas and ocean run-off in a post-fire environment? How will this differ in different parts of the island?
PFX: Favorite way to spend your free time?
EM: One thing living in Italy taught me was to really appreciate what I have, what I do, and appreciate those around me. For me, free time is about being with the family. We do a lot of stuff together. We live across from the ocean so we tend to spend a lot of time at the beach or around the water. I have a pretty strong faith in religion - I truly believe that we've been blessed through God and we're here to edify that. So my wife and I, and my kids, we tend to spend time together, try to have as good a time as we can, and give back. .
PFX: Share something most people don't know about you.
EM: I'm a Star Wars nut - I love Star Wars! I have several favorite characters but if I had to choose,  it'd be Luke. He had innocence and perseverance through selfless service. He got wrapped up in something bigger than he was, and went into it with eyes wide open, trying to do what was right, not trying to get ahead or make a buck. I relate to him in that sense.