This page archives information about the fire risk and fire ecology of various non-native plants found in Hawai'i. More general information on the weed risks and ecology of non-native plants in Hawai'i is available from the Hawai'i Invasive Species Committee's Weed Risk Assessment database. Kevin Faccenda and Curt Daehler (both at the University of Hawai'i at Mānoa) developed a screening system focused on wildfire risk by asking land managers to assign a relative fire risk for weeds which are already naturalized in Hawai'i. This land manager expertise was then used to train a machine learning model to rank hundreds of other species based on plant traits and other information from the scientific literature. This research and the resulting fire risk model has been published in the journal Biological Invasions.

The Weed Fire Risk Database below assesses 360+ plant species for their fire-promoting traits and provides a computer model-generated fire risk score between 0 (no risk) and 1 (highest risk) for each plant species. A plant scoring above the threshold of about .3 should be considered higher risk and a potential concern as a wildfire promoter. The data below are presented as: (1) an interactive webpage, (2) an Excel file containing the data for all species, and (3) pdf fact sheets for each species. In addition to identifying plant species that are likely to pose high wildfire risk in Hawaii, this information may also be useful to predict post-fire responses, as available fire regeneration characteristics of each plant species are summarized.
The creation of this tool has been funded by the Pacific Islands Climate Adaptation Science Center (PICASC), a regional science center addressing the challenges presented by climate change and variability.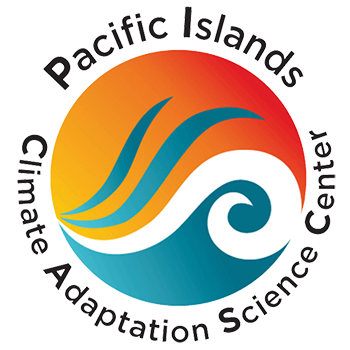 Note that the analysis doesn't account for a plant species' spatial distribution, population density, or distinct climate and ecosystem conditions (which can also influence fire risk). The fire risk of these species are mostly under "worst case" environmental conditions where the climate is dry enough to maintain fire, but wet enough to allow for plant growth and fuel accumulation. The fire risk ranking should not be taken as a stand-alone risk metric in prioritizing weed control efforts. Rather, this information may also be useful for determining if a newly discovered species poses a potential fire threat in wildland areas.

On this interactive factsheet you can filter species by islands, sort species by name or fire risk, and advance up and down the list of species using the previous and next buttons.

This species is likely a
fire risk in Hawai'i with a score of
.
This species was ranked by 49 managers on a scale of 'no risk', 'low risk', 'medium risk', or 'high risk'. The numerical score ranges from 0 to 1 with higher scores indicating more managers considered it a higher risk. A score of > 0.31 indicates high risk
This species was ranked by our machine learning algorithm using the data presented below. A predicted score of > 0.34 suggests the plant is a high fire risk
Summary of fire ecology
| | |
| --- | --- |
| Native habitat fire proneness | |
| Fire promoting plant in its native range | |
| Fire promoting plant in its introduced range* | |
| Regenerates in burned areas after fire or by seed | |
| Fire encourages regrowth of this plant | |
| Reported flammable* | |
| Relative is reported flammable* | |
*These values were used by the model to predict fire risk
Detailed summary of fire ecology
| | | |
| --- | --- | --- |
| Native habitat fire proneness (In any part of the plant's native range is its habitat described as fire prone due to natural or human caused fires?) | | |
| Fire promoting plant in its native range (Does the species act as a major fuel source, increase fire severity, frequency, or modify fuel bed characteristics within its native range?) | | |
| Fire promoting plant in its introduced range (Same as Fire Promoting Native but within the species introduced range) | | |
| Regenerates after fire (Does the plant regrow after fire by any means? This includes resprouters, reseeders, and recruiters which dispersed into the area within approximately one year post fire) | | |
| Promoted by fire (Does the plant increase in abundance after a fire?) | | |
| Reported flammable (Is the species described as being flammable, being a major wildfire fuel, or high fire risk?) | | |
| Relative is flammable (Does a plant in the same genus meet the Reported Flammable criteria?) | | |
Text in quotes are direct quotes from the source
Text in square brackets was added by the assessor to clarify what the source means
Text preceded by a # is comment by the assessor

---
The data presented were assembled from literature and database searches for each species using as much data as could be collected regarding the plant's fire ecology under natural conditions. Searches aimed to be exhaustive and consist of as much data as could be located in 2020. Our machine learning algorithm was trained on 49 species of plants which had their fire risk ranked by 49 managers in Hawai'i in November 2020. The model used a conditional random forest regression algorithm to predict scores for each species using the manager score as the response variable and the fire ecology traits of each plant as the predictor variables to generate a fire risk score. This trained model was then used to predict the fire risk for all species which were not ranked by managers. The model was calibrated such that it is 90% accurate at predicting high fire risk plants and 79% accurate at predicting low fire risk plants.
Fact sheet prepared by Kevin Faccenda (
[email protected]
) in November 2021. Data were prepared by in 2020.
This research was funded by the Department of the Interior Pacific Islands Climate Adaptation Science Center. The project described in this publication was supported by Grant or Cooperative Agreement No.G20AC00073 to Curt Daehler from the United States Geological Survey. The views and conclusions contained in this document are those of the authors and should not be interpreted as representing the opinions or policies of the U.S. Geological Survey. Mention of trade names or commercial products does not constitute their endorsement by the Pacific Islands Climate Adaptation Science Center or the National Climate Adaptation Science Center or the US Geological Survey.